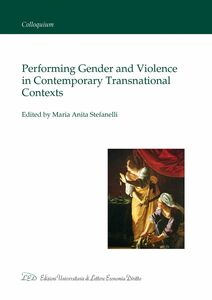 Acknowledgements — Preface by Maria Anita Stefanelli — 1. Making Visible. Theatrical Form as Metaphor: Marina Carr and Caryl Churchill by Cathy Leeney — 2. Obscene Transformations: Violence, Women and Theatre in Sarah Kane and Marina Carr by Melissa Sihra — 3. Can the Subaltern Dream? Epistemic Violence, Oneiric Awakenings and the Quest for Subjective Duality in Marina Carr's Marble - Interview with Marina Carr - Excerpt from Marble by Marina Carr by Valentina Rapetti — 4. "The house is a battlefield now": War of the Sexes and Domestic Violence in Van Badham's Kitchen and Warren Adler's The War of the Roses - Interview with Van Badham - Excerpt from Kitchen by Van Badham by Barbara Miceli — 5. Serial Killers, Serial Lovers: Raquel Almazan's La Paloma Prisoner - Interview with Raquel Almazan - Excerpt from La Paloma Prisoner by Raquel Almazan by Alessandro Clericuzio — 6. "To Put My Life Back into the Main Text": Re-Dressing History in The Second Coming of Joan of Arc by Carolyn Gage - Interview with Carolyn Gage - Excerpt from The Second Coming of Joan of Arc and Selected Plays by Carolyn Gage by Sabrina Vellucci — 7. Turning Muteness into Performance in Erin Shields' If We Were Birds - Interview with Erin Shields - Excerpt from If We Were Birds by Erin Shields by Maria Anita Stefanelli — 8. Afterword: Vocal and Verbal Assertiveness by Kate Burke — Contributors
An extraordinary complexity characterizes the encounter between theatre, mythology, and human rights when gender-based violence is on the platform. Another encounter enhances the cross-disciplinary and transnational dynamics in this book: the one between the scholar and the playwright, who exchange views to pursue a theme demanding due attention at an emergence that needs being explored to be understood and combated, and finally turned into a priority action. Through the analysis of a repertoire of contemporary plays and performance practices from English-speaking countries, the contributors explore in detail the asymmetrical relations that exist between men and women, the crimes involved, and the ways in which the protagonists' minds work differently. The unconventional format adopted for the five central sections that follow two papers centered on Marina Carr's theatre in comparison with two noteworthy British playwrights', and that forerun the final stringent remarks about woman's (like man's) fundamental right to speak and need for words, offers not just single chapters, however provocative, on an aspect of the theme, but a tripartite session boasting a critical inquiry into the text, the playwright's response to criticism, and a sample of the author's creative expression. What emerges is a prismatic, complex, and visceral vision of the plays offered to the public for further elaboration and critique. Beside Carr, those involved are Raquel Almazan, Van Badham, Carolyn Gage and Erin Shields – all of them champions of today's feminist commitment to denounce, through their art, violence against women.
Dettagli libro
Editore

Testo originale

Sì

Lingua

Data di pubblicazione

Numero di pagine

Argomento

Collana
Sull'autore
Maria Anita Stefanelli
teaches Anglo-American Literature at Università Roma Tre. A Fellow of Trinity College Dublin, she has served for many years on the board of the Italian-American Fulbright Commission, and has published widely, in Italy and abroad, in the field of American poetry and American drama.