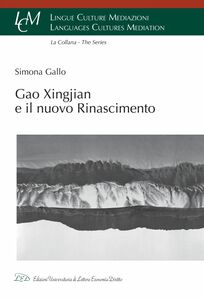 Nato in Cina nel 1940, cittadino naturalizzato francese dal 1997, Premio Nobel per la Letteratura (2000), Gao Xingjian 高行健 è un artista proteiforme: è romanziere, poeta, drammaturgo, scenografo, pittore, teorico e critico d'arte e letteratura. È un uomo che ha fatto esperienza dell'esilio e che nel "terzo spazio" della creazione artistico-letteraria ha trovato la propria ragion d'essere. Gao Xingjian e il nuovo Rinascimento pone il focus sulla sua scrittura critica – abitata da una dimensione teorica e contemplativa, pur sempre mediata dalla pratica estetica – e da qui osserva l'affascinante evoluzione della figura intellettuale dell'autore, che si materializza in un vasto corpus di saggi e discorsi elaborati nell'arco di un mezzo secolo. Superato oggi il quesito atavico sulla libertà individuale, identificati gli "-ismi" vecchi e nuovi, Gao torna a parlare in maniera costruttiva di ciò che la produzione artistico-letteraria è nell'essenza, negli obiettivi e nel metodo. Da ciò, l'appello al nuovo Rinascimento, il più recente – e forse più originale – contributo teorico del nuovo millennio. L'appello si configura come manifesto artistico-letterario, come inno a una nuova epoca di artisti e scrittori illuminati, guidati dal senso del bello e dal desiderio di rappresentare l'intrinseca poliedricità del reale. Il volume propone una riflessione intertestuale sull'articolata genealogia e sulle declinazioni – transculturali e transartistiche – del Rinascimento à la Gao, che è genuina volontà di riscoperta del potere comunicativo del fatto estetico in un'epoca piena di ombre. Gao Xingjian appare ora come pensatore contemporaneo che invoca, romanticamente, il ritorno alla bellezza, all'autenticità di una creazione umana e universale, aprendo così la strada a una nuova epoca di affermazione di valore.
Detalles de eBook
Editor

Original text

true

Idioma

Fecha de publicación

Tema

Colección
Sobre el autor
Simona Gallo (ed.)
Holds a PhD from University of Milan and currently teaches Chinese Language, Literature and Culture at several Italian Universities. She has researched and published on contemporary Chinese Literature, and she is the editor of this work.