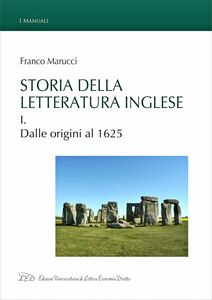 Storia della letteratura inglese. Vol. I. Dalle origini al 1625
Franco Marucci
PREMESSA. 1. I "termini" di questo volume.
PARTE PRIMA. La formazione di una letteratura nazionale 2. La questione canonica. 3. Storia dell'Inghilterra fino al 1066. 4. Beda. 5. La poesia anglosassone. 6. Beowulf.
PARTE SECONDA. Il periodo medio inglese
7. Storia dell'Inghilterra dal 1066 al 1485. 8. Generi e "materie". 9. Le saghe arturiane. Geoffrey of Monmouth. Wace. Layamon. 10. La letteratura "riccardiana". 11. L'irradiazione del Roman de la Rose. 12. Pearl e Sir Gawain and the Green Knight. 13. Gower 14. Langland 15-20. Chaucer 21. I chauceriani inglesi. Hoccleve. Lydgate. Hawes. 22. Barclay. 23. Skelton. 24. La letteratura scozzese nel Quattrocento. 25. I chauceriani scozzesi. Douglas. Henryson. Dunbar. 26. Lyndsay. 27. Liriche e ballate popolari. 28. Il dramma medievale. 29. La prosa nel Quattrocento. 30. Le Paston Letters. 31. Caxton. 32-33. Malory.
PARTE TERZA. Il Cinquecento
34. L'Inghilterra sotto i Tudor. 35. La Riforma inglese. 36-38. L'umanesimo e il Rinascimento elisabettiano 39. Moro. 40. Le precettistiche del "gentleman". 41. Le "miscellanee". 42. Wyatt. 43. Surrey. 44. Il Mirror for Magistrates. 45. Gascoigne. 46. Altri poeti minori. 47. Poeti cattolici elisabettiani. 48-54. Sidney 55. Greville. 56-65. Spenser 66. Ralegh. Wotton. 67. Thomas Campion. 68. Drayton. 69. Daniel. 70. Altri sonettisti e poeti pastorali. 71. Davies e Davies di Hereford. 72. Hall. 73-83. Donne 84. Puttenham.
PARTE QUARTA. Il teatro elisabettiano
85. Il masque e l'interludio tudoriani. 86. Istituzioni del teatro elisabettiano. 87. Gli incunaboli. 88. Udall. 89. Bale. 90. Gorboduc. 91.Cambyses. 92. Arden of Feversham. 93. Kyd. 94. Peele. 95-102. Marlow 103-109. Marston 110-114. Chapman 115-122. Jonson 123. Tourneur. 124-127. Webster 128-129. Dekker 130-136. Middleton 137-140. Beaumont e Fletcher 141-143. Massinger 144-146. Ford 147-148. Thomas Heywood. 149-150. Shirley.
PARTE QUINTA. Gli albori della prosa narrativa
151. La nascita del poligrafo. 152-153. Lyly 154. Lodge. 155-156. Greene 157. Nashe. 158. Deloney. 159. I Marprelate Tracts. 160. Hooker. 161. La letteratura di viaggio e le compilazioni storiografiche.
Book details
Publisher

Original text

Yes

Language

Publication date

Theme

Collection
About the author
Franco Marucci
Franco Marucci ha insegnato letteratura inglese principalmente nell'università di Venezia Ca' Foscari. Fra i suoi studi in volume sono Il senso interrotto. Autonomia e codificazione nella poesia di Dylan Thomas (Longo 1976), Gerard Manley Hopkins. Il silenzio e la parola (Giardini 1977), I fogli della Sibilla. Retorica e medievalismo in Gerard Manley Hopkins (D'Anna 1981, poi tradotto e rivisto come The Fine Delight that Fathers Thought: Rhetoric and Medievalism in Gerard Manley Hopkins, The Catholic University of America Press 1994), Il Vittorianesimo (Il Mulino 1991 e, rivisto, Liguori 2009), L'inchiostro del mago. Saggi di letteratura inglese dell'Ottocento (Pacini 2009), Joyce (Salerno editore 2013). Suoi saggi su rivista sono dedicati, insieme a molti altri, a Shakespeare, Ruskin, le sorelle Brontë, Matthew Arnold, Browning, George Eliot, Wilkie Collins, i Rossetti, Walter Pater, Patmore, Ouida, T S. Eliot. Come traduttore ha curato Ballate liriche di Wordsworth e Coleridge (Mondadori 1979 e 1999), Ritratti immaginari (Giunti 1994) e Gaston de Latour (Marsilio 1995) di Pater. Dal 2003 fino al 2017 ha steso per Le Lettere Storia della letteratura inglese in otto volumi complessivi (traduzione integrale inglese Peter Lang 2018-2019). Nel campo della scrittura "creativa" ha pubblicato il memoriale Pentapoli (Masso delle Fate 2011), il "capriccio" Il Michelin del sacro (Gli Ori 2012) e il romanzo Altomare (Castelvecchi 2020). Tra le sue opere più recenti sono L'occhio del diavolo. Agoni, smarrimenti, riscatti nel cinema di Ingmar Bergman (Nardini 2020), Authors in Dialogue: Comparative Essays in Nineteenth- and Early Twentieth-Century English Literature (Oxford 2020), Letteratura inglese. Un profilo storico (Carocci 2020), e Hitchcock. Il prurito della pistola (Ronzani 2021). In stampa per Routledge è George Eliot's 'The Lifted Veil': A Sequential and Contextual Reading.