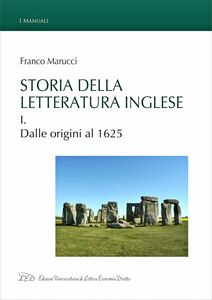 Storia della letteratura inglese. Vol. I. Dalle origini al 1625
Franco Marucci
PREMESSA. 1. I "termini" di questo volume.
PARTE PRIMA. La formazione di una letteratura nazionale 2. La questione canonica. 3. Storia dell'Inghilterra fino al 1066. 4. Beda. 5. La poesia anglosassone. 6. Beowulf.
PARTE SECONDA. Il periodo medio inglese
7. Storia dell'Inghilterra dal 1066 al 1485. 8. Generi e "materie". 9. Le saghe arturiane. Geoffrey of Monmouth. Wace. Layamon. 10. La letteratura "riccardiana". 11. L'irradiazione del Roman de la Rose. 12. Pearl e Sir Gawain and the Green Knight. 13. Gower 14. Langland 15-20. Chaucer 21. I chauceriani inglesi. Hoccleve. Lydgate. Hawes. 22. Barclay. 23. Skelton. 24. La letteratura scozzese nel Quattrocento. 25. I chauceriani scozzesi. Douglas. Henryson. Dunbar. 26. Lyndsay. 27. Liriche e ballate popolari. 28. Il dramma medievale. 29. La prosa nel Quattrocento. 30. Le Paston Letters. 31. Caxton. 32-33. Malory.
PARTE TERZA. Il Cinquecento
34. L'Inghilterra sotto i Tudor. 35. La Riforma inglese. 36-38. L'umanesimo e il Rinascimento elisabettiano 39. Moro. 40. Le precettistiche del "gentleman". 41. Le "miscellanee". 42. Wyatt. 43. Surrey. 44. Il Mirror for Magistrates. 45. Gascoigne. 46. Altri poeti minori. 47. Poeti cattolici elisabettiani. 48-54. Sidney 55. Greville. 56-65. Spenser 66. Ralegh. Wotton. 67. Thomas Campion. 68. Drayton. 69. Daniel. 70. Altri sonettisti e poeti pastorali. 71. Davies e Davies di Hereford. 72. Hall. 73-83. Donne 84. Puttenham.
PARTE QUARTA. Il teatro elisabettiano
85. Il masque e l'interludio tudoriani. 86. Istituzioni del teatro elisabettiano. 87. Gli incunaboli. 88. Udall. 89. Bale. 90. Gorboduc. 91.Cambyses. 92. Arden of Feversham. 93. Kyd. 94. Peele. 95-102. Marlow 103-109. Marston 110-114. Chapman 115-122. Jonson 123. Tourneur. 124-127. Webster 128-129. Dekker 130-136. Middleton 137-140. Beaumont e Fletcher 141-143. Massinger 144-146. Ford 147-148. Thomas Heywood. 149-150. Shirley.
PARTE QUINTA. Gli albori della prosa narrativa
151. La nascita del poligrafo. 152-153. Lyly 154. Lodge. 155-156. Greene 157. Nashe. 158. Deloney. 159. I Marprelate Tracts. 160. Hooker. 161. La letteratura di viaggio e le compilazioni storiografiche.
Book details
Publisher

Original text

Yes

Language

Publication date

Theme

Collection
About the author
Franco Marucci
Franco Marucci ha insegnato Letteratura inglese principalmente nell'Università di Venezia Ca' Foscari. Nel corso della sua carriera ha pubblicato più di sessanta libri come autore, coautore, curatore e traduttore. Sue monografie sono dedicate a Dylan Thomas (Ravenna 1976), a Gerard Manley Hopkins (Pisa 1977; Firenze 1981; Washington 1994) e a Joyce (Roma 2013). Come storiografo ha pubblicato History of English Literature (8 volumi, Oxford 2018-19) e Letteratura inglese. Un profilo storico (Roma 2020), e come comparatista Authors in Dialogue: Comparative Essays in Nineteenth- and Early Twentieth- Century English Literature (Oxford 2020). Come memorialista e saggista ha scritto Pentapoli (Firenze 2011) e Il Michelin del sacro (Pistoia 2013), e come critico cinematografico ha studiato il cinema di Ingmar Bergman in L'occhio del diavolo. Agoni, smarrimenti e riscatti nel cinema di Ingmar Bergman (Firenze 2020). Le sue opere più recenti sono il romanzo Altomare (Roma 2020) e Hitchcock. Il prurito della pistola (Vicenza, Ronzani). In stampa è George Eliot's 'The Lifted Veil': A Sequential and Contextual Reading (London e New York, Routledge). La sua produzione è elencata più dettagliatamente alla voce Franco Marucci su Wikipedia, sul sito dell'università di Venezia Ca' Foscari e nel Blog https://francomarucci.wordpress.com/.