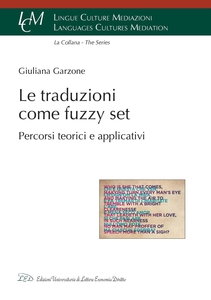 Questo volume raccoglie i risultati di ricerche sulla traduzione svolte nel corso di circa due decenni. I primi tre capitoli espongono il quadro teorico e i principali concetti e strumenti analitici che informano i capitoli che seguono. L'impostazione traduttologica, essenzialmente target-oriented, propone una visione che combina alcuni aspetti della prospettiva descrittivista con altri di quella funzionalista, ponendo l'accento sugli elementi comuni tra i due approcci. Questa visione si concretizza nella categorizzazione delle traduzioni come un fuzzy set, cioè come un insieme aperto e fluido che accoglie al suo interno, con un grado diverso di appartenenza, testi trasposti attraverso diversi sistemi linguistici e semiotici con un rapporto variabile con il testo fonte. Accanto a questa idea innovativa, nel volume vengono avanzate per la prima volta altre proposte, come il suggerimento di considerare la lingua tradotta come un vero e proprio sotto-sistema all'interno del diasistema della lingua ricevente e l'ipotesi che l'applicazione della così detta 'Teoria del Monitor', mutuata dalla glottodidattica, possa servire a spiegare perché il testo tradotto presenta caratteristiche peculiari 'universali', indipendenti dalla coppia di lingue coinvolte. I restanti capitoli sono costituiti da saggi di carattere applicativo in alcuni casi già pubblicati in volumi o riviste, in questa sede aggiornati, rielaborati e riorganizzati. Nel capitolo finale l'attenzione si sposta sul grande tema delle traduzione dei testi specialistici, particolarmente cruciale nel mondo contemporaneo.
Book details
Publisher

Original text

Yes

Language

Original language

Publication date

Page count

Theme
About the author
Giuliana Garzone (ed.)
Giuliana Elena Garzone is Full Professor of English, Linguistics and Translation at IULM University, Milan, where she co-ordinates the Master's Progamme in Specialised Translation and Conference Interpreting. She formerly taught at Milan State University where she directed the PhD Programme in Linguistic, Literary and Intercultural Studies. Her research interests are mainly in ESP, which she has explored in a discourse analytical perspective, integrating it with corpus linguistics, and in Translation and Interpreting Studies. She has co-ordinated several research projects and published extensively on legal, scientific and business discourse as well as on translation and interpreting. She is co-editor-in-chief (with Paola Catenaccio) of the journal Lingue Culture Mediazioni / Languages Cultures Mediation. Her most recent publications include: "New Biomedical Practices and Discourses: Focus on Surrogacy" (2019); "The Interpreter Mediated Police Interview as Argumentative Discourse in Context: A Case-study" (2017), published in the volume Argumentation across Communities of Practice she edited with C. Ilie, and the volume Le traduzioni come fuzzy set. Percorsi teorici e applicativi (2015).