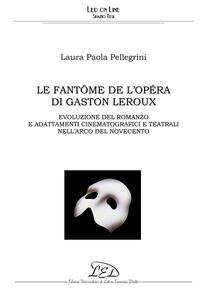 Le Fantôme de l'Opéra di Gaston Leroux
Evoluzione del romanzo e adattamenti cinematografici e teatrali nell'arco del Novecento
Laura Paola Pellegrini
Il Fantasma dell'Opera è un romanzo dalle molte sfaccettature. È un romanzo gotico, poiché parla di oscure presenze, di ombre, di fantasmi, di sortilegi e di magia; è un romanzo romantico, come era romantica l'indole dello scrittore Gaston Leroux, portato ad una certa malinconia cimiteriale e dolciastra; è un romanzo decadente, poiché il suo protagonista è un vero dandy, dall'eleganza teatrale e sovraccarica che ama circondarsi di arredamenti barocchi, di specchi, di velluti, di oro, proprio come sarebbe piaciuto a Wilde o a Huysmans; è un romanzo simbolista, poiché costellato di moltissime metafore care alla narrativa fiabesca, come quella della chiave, dell'anello, del bacio, del lago, del fiume; è un romanzo surrealista, come ebbe a dichiarare Jean Cocteau, poiché parla di sogni, di dimensioni dilatate e ossessive, come nel romanzo Alice nel Paese delle Meraviglie, di Louis Carroll, è un romanzo moderno, poiché parla della discesa nelle profondità di noi stessi, legandosi al mondo della psicoanalisi di Sigmund Freud; è un romanzo teatrale poiché ci parla dell'illusione del palcoscenico; è un romanzo poliziesco, poiché usa in certi passaggi il linguaggio dell'indagine ed è costellato da delitti misteriosi; è un romanzo d'amore, poiché racconta di un'infelice passione non corrisposta. Il Fantasma dell'Opera è un romanzo che contiene tanti romanzi, diversi stili e ci tocca nel profondo dell'anima poiché parla di sentimenti, è un romanzo popolare che racconta storie che riguardano tutti noi, anche se apparentemente incredibili. Infine, è un romanzo straordinario che ha ispirato altre opere: romanzi, film per il cinema, riduzioni per la televisione, allestimenti circensi, fantasmagorie sul ghiaccio, le ha ispirate dalla sua prima apparizione, nel 1910, fino ad oggi e continuerà ad ispirarne altre, negli anni a venire.
Book details
Publisher

Original text

Yes

Language

Original language

Publication date

Page count

Theme

Collection
About the author
Laura Paola Pellegrini
Laura Paola Pellegrini was born in Milano and she lives between Italy and New York. She went to school in Connecticut, USA and she got a doctor degree in French Literature at the University of Milano with the highest grade and cum laude. She worked as a public relation executive and she collaborated to the creation of the magazine, La Rivista Della California, founded and directed in San Francisco by the ex consul for Scientific Affairs, the late professor Giancarlo Masini, giving her contribution with several articles written both in English and in Italian. She is now devoting her activity to writing novels and she already published two books in Italy.